Information on elections
---
On July 25, 2022, a referendum was held in Tunisia to change the state system of the country.

Electoral Results:

Yes: 2,607,884 votes (94.60%)
No: 148,723 votes (5.40%)

Ballot question:

The poll was preceded by an electronic consultation regarding the nature of the political system and the method of voting in the upcoming legislative elections.
Source: Arab Center for Research and Policy Studies
The reported question on the ballot was: "Do you support the new draft constitution for the Tunisian republic?" The referendum was boycotted by many of Tunisia's largest political parties. The largest opposition political parties are boycotting Tunisia's referendum. The draft constitution turns Tunisia's semi-presidential system into a presidential system, giving the president sweeping powers while greatly limiting the role of parliament.
Selected articles
Tunisia referendum: A nation divided, 22 July, (BBC)
Tunisians take to the streets ahead of constitutional referendum, 24 July, (Euronews)
The last 'Arab Spring' democracy is dangling by a thread, 27 July, (CNN)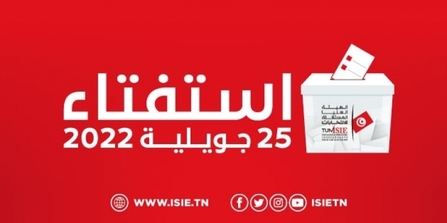 The official logo of the Tunisian constitutional referendum 2022