Information on elections
---
On 2 October general elections were held in Bosnia and Herzegovina. The elections determined the makeup of Bosnia and Herzegovina's Presidency as well as national and cantonal governments.

Electoral Results

Elected Bosniak member of the Presidency:
Denis Bećirović of the SDP BiH (Social Democratic Party of Bosnia and Herzegovina) won against Bakir Izetbegovic with 321,411 votes, 57.54%.
Elected Croat member of the Presidency:
Željko Komšić of the DF (Democratic Front) party won against Borjana Krišto of the HDZ BiH (Croatian Democratic Union of Bosnia and Herzegovina) party with 219,195 votes, 55.60%.
Elected Serb member of the Presidency:
Željka Cvijanović of the SNSD (Alliance of Independent Social Democrats) party won against Mirko Šarović of the SDS (Serb Democratic Party) party with 323,996 votes, 52.27%.

About the Electoral System

The Federation of Bosnia and Herzegovina and the Republika Srpska are the two constituencies where the 42 members of the House of Representatives are chosen by open list proportional representation. Eight electoral units are then created from these two constituencies.
Each of the three national communities will elect a member of the Presidency in the presidential election. The current Presidency is made up of Milorad Dodik, Sefik Dzáferovic, and Zeljko Komsic. With 8 of the 42 seats, the Party of Democratic Action presently holds the majority in the House of Representatives.
The three members of the Presidency are elected by a plurality voting system. In Republika Srpska voters elect the Serb representative, whilst in the Federation of Bosnia and Herzegovina voters elect the Bosniak and Croat members.Voters registered in the Federation of Bosnia and Herzegovina can vote for either the Bosniak or Croat candidate, but cannot vote in both elections.
Source: Office for Democratic Institutions and Human Rights
Selected articles
Bosnia calls Oct. 2 election despite rows over electoral reform, funding, 4 May (Reuters)
What you need to know about Bosnia's general election, 30 September, (Reuters)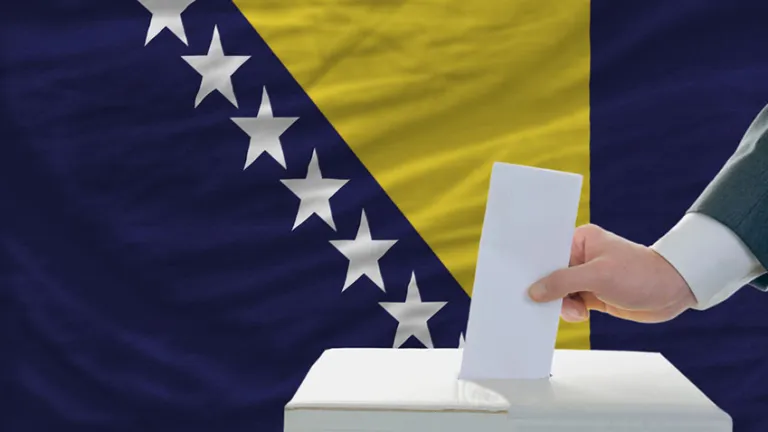 Official logo of the election